Cotton is the traditional gift for a second anniversary, but I'm not sure a second-hand shirt from Oxfam would be the most suitable present for your wife or husband!
There are lots of cotton-related gifts suitable for a 2nd wedding anniversary, from personalised T-shirts, sexy lingerie, dressing gowns for him n' her, beautiful cushions, and even a hammock for those relaxing garden evenings…!
Read on for some fantastic 2nd anniversary gift ideas:
Designer Clothes For Him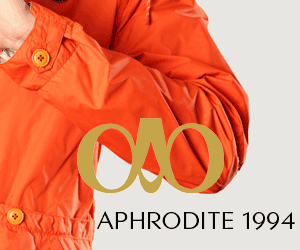 If your man is into the way he looks, or if you just wished he was, then getting him some quality new threads from Aphrodite could be a good choice.
Formed in 1994, Aphrodite is the UK's leading men's designer clothing store, specialising in cutting edge fashion from brands such as G-Star, Armani, Pretty Green, Paul Smith and more.
From jackets, shirts, trousers, T-shirts and more, you'll find lots of great new looks to treat your man to!
With next day delivery on any item being only £5, they're a good bet if you've left your anniversary gift hunting 'til the last minute too!
You can visit the Aphrodite website here.
Lingerie For Her
It's timeless, classic, luxurious and – best of all – a great treat for you too!
Splashing out on some sexy new underwear for your woman not only makes her feel desirable, but it also means a great show for you too. Yes, it's important to get her size right before ordering, and a sure-fire way of not slipping up here is to have a sneaky look at the labels on her existing underwear – just note down her sizes, and hey presto, she'll be instantly impressed when her new bra actually fits!
LoveHoney are one of the UK's largest lingerie retailers, and you'll find everything from slinky basques and gorgeous bras, to corsets, maid uniforms and more.
With a next day delivery option, and a 100% no quibbles return policy if you do order the wrong size (but if you follow the tip above, you won't need that, will you?) LoveHoney have everything you can ask for – and some even kinkier things you'd never even think to ask for!
Visit LoveHoney's website here.
A Hammock For Him Or Her
Keeping with the traditional cotton theme, but going slightly 'different', how about getting him or her their very own hammock?
Yes, it may seem a little left-field, but if your husband uses the garden more to lounge about than to actually, well, garden, then his very own hammock could be perfect. If your wife's into keeping the lawn all nice and trim, then giving her a hammock means she can lie back and enjoy all her hard work, a glass of wine in hand…very nice!
Amazon have a wide range of hammocks, which you can go take a gander at here.
Cotton photo credit by incurable_hippe, hammock by michelhrv